Fin
Today I went to post something: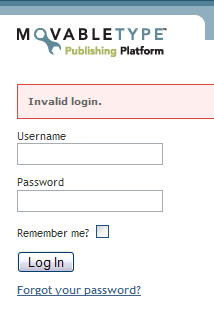 Eh? No, that's always been my password. Maybe the forgotten password link...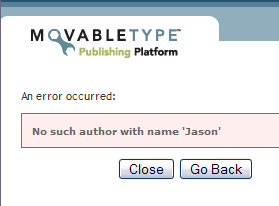 Fucking hell, you're kidding me. Something ate my login?
So that's it. In years past, I would have loved tinkering with stuff to make it work differently, but these days I just don't have the time. I want stuff that works and I don't want to have to deal with it breaking. I've been toying around with the idea of shutting Over Queersville down the last few months for a few different reasons, but looks like Movable Type or my web hosting made that decision for me. If it's the latter, they haven't posted an announcement about having perl problems or whatever.
How funny that I discover this the day after I got my WordPress.com invite. I'm shifting gears and have something up over at jaschu.wordpress.com. It's something akin to an old-school weblog. (I say that now, ha ha ha, but whatever.) It's all Running Tally except I'm not a year out of college and my writing (and possibly attitude) has improved. Go keep track of me over there, folks.
I'm supposed to thank you for the fish at this point, I think.
01:11 PM; fin